Step into the ever-changing world of fashion and beauty, where keeping pace with the latest makeup trends is an exhilarating ride. Whether you're a free-spirited student, a go-getting professional, or an adventurer of the great outdoors, a versatile makeup collection is your ticket to effortless style transformations. Brace yourself as we unveil a curated selection of trendsetting makeup marvels that will transport your everyday looks to extraordinary heights. Braceleted with the goodness of caring ingredients, these beauty gems not only adorn your skin but also ensure a radiant and thriving canvas that lasts from dawn to dusk. Prepare to embark on a journey where innovation meets nourishment, and where makeup becomes a canvas for creative self-expression.
College or University Look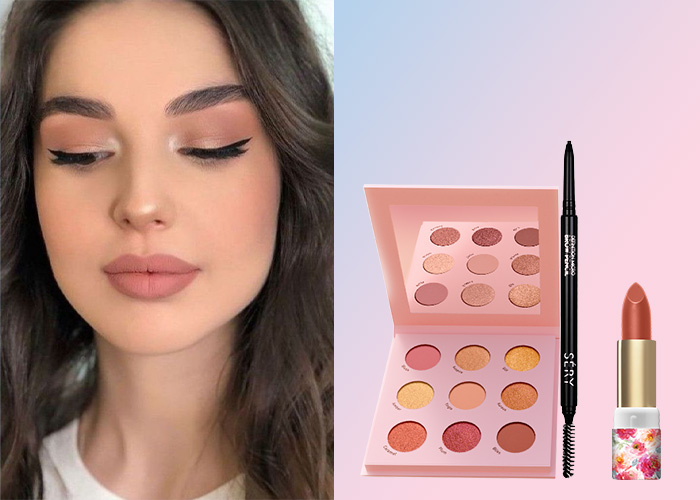 Prepare to make a grand entrance into the college scene, equipped with a mesmerizing makeup look that oozes confidence and leaves everyone spellbound. Let's kick off your transformation using the captivating SERY Aurora Eye Shadow, adorned in the enchanting shade of Gold Show. Glide this bewitching color over your eyelids, unveiling an irresistible allure that distinguishes you as the trendsetter of your academic realm. Get ready to shine and capture the attention of all who lay eyes on you!
Unleash your artistic prowess with a SERY Micro Definition Eyebrow Pencil infused with the nourishing goodness of argan oil and vitamin E, designed to sculpt your brows with meticulous precision. Like a master conductor of self-expression, you skillfully craft each stroke, flawlessly framing your face and leaving an unforgettable mark that resonates with the vibrant energy of college life. With the added convenience of an integrated spoolie, you have all the tools you need to achieve impeccable brows that make a lasting impression.
Elevate your college-ready ensemble to new heights with the SERY Matte Care Lipstick in the captivating shade of Gracious, infused with Candelilla Wax, Caranuba Wax, Castor Oil, and Vitamin E. This transformative lipstick embraces your skin with a velvety touch, like a cozy nook in the campus library where intellectual pursuits meld with sartorial expression. It bestows a flawless canvas upon which you can paint your dreams and radiate the brilliance of your academic endeavors.
Unleash your inner powerhouse with a refined and confident Office Makeup Look  that commands attention and sets the stage for your professional prowess. Let your eyes become the captivating focal point as you wield the rosehip oil-infused SERY Black Pro Ultimate Kajal like a precision pen, effortlessly outlining your waterline with an artistry that adds depth and intensity lasting for 24 hours. And give shape to your brows with SERY Browfidence Eyebrow Duo Kit that adds more frame to the eyes making you look extremely expressive in that board meeting!
Craft a flawless canvas of confidence with the best liquid foundation SERY Satin Flawless Longwear Foundation, applying it with the finesse of a seasoned executive. Curated with the benefits of Hyaluronic Acid, the formula bestows your skin with an immaculate finish, akin to the polished surface of a conference room table, radiating a sense of poise and sophistication that speaks volumes about your dedication to excellence.
Seal the deal on your office-ready look with the SERY Illu-matte Blush + Highlighter Duo, swipe it on your cheeks and a little on your eyes, to add a monochromatic and even look on the face that looks effortlessly lifted. Plus, the benefit of the skin-loving ingredient like Hyaluronic Acid gives a hydrated and supple touch to your skin.
Now swipe the shade Gentle of our best-selling lipstick SERY Matte Care, the secret weapon for achieving the perfect balance between luscious lips and a commanding matte finish. It's like a successful merger of two contrasting elements, mirroring your ability to navigate the delicate dance between creativity and professionalism.
When it comes to achieving a practical and long-lasting Field Work Makeup Look, durability and adaptability are of utmost importance. Begin your makeup by applying the best Foundation stick online – SERY Fix 'N' Click Foundation Stick  that offers enduring coverage while safeguarding your skin with the added benefits of SPF protection. This ensures that your complexion remains shielded from the sun's rays throughout your outdoor endeavors.
Seal your look with a SERY Go Bare Compact powder, providing a smooth and shine-free finish that hydrates your skin with the nourishing properties of Vitamin E and the protection of SPF-15. This face compact powder is like a reliable shield that keeps your skin looking fresh and well-protected against the elements, even in challenging field conditions.
Elevate your lips with the rich and vibrant, Vitamin E Infused liquid lipstick – SERY Stay On Matte Liquid Lipstick in the captivating shade Sweet Plum, infusing your outdoor pursuits with a touch of sophistication. The waterproof SERY Panace Eyeliner Pen becomes your trusty companion, defining your eyes with precision and staying put for a remarkable 24 hours, undeterred by humidity or unexpected weather changes.
To add a captivating touch to your complexion, swipe the liquid highlighter – Glow Dots illuminating Highlighter in an alluring rose gold shade, instantly accentuating your cheeks against the natural backdrop. It's like a sun-kissed glow that illuminates your features and enhances your radiance, regardless of the rugged surroundings.
The choice of SPF and waterproof products is deliberate and essential for field work. SPF protection shields your skin from harmful UV rays, reducing the risk of sun damage and ensuring its health and well-being. Waterproof makeup products, on the other hand, offer longevity and smudge-proof performance, allowing your makeup to withstand the demands of an active outdoor environment.
 With this resilient and glamorous makeup combination, you'll be fully equipped to conquer any makeup look with style, confidence, and the assurance that your makeup will endure the rigors of your adventurous ventures.